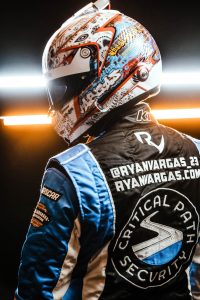 Greetings to all!
We're thrilled to share some exhilarating news with you all! Our own Ryan Vargas, a promising talent in the NASCAR racing scene, will be competing in the North Carolina Education Lottery 200 NASCAR Race, proudly representing Critical Path Security.
The Unstoppable Ryan Vargas
Ryan Vargas has shown an impressive trajectory in his NASCAR career, consistently demonstrating a rare blend of natural talent, determination, and competitive spirit that resonates with Critical Path Security's values. We couldn't be more proud to back this gifted driver who not only personifies speed on the racing track but also exudes passion and dedication towards the sport.
The Race to Success
The North Carolina Education Lottery 200 is one of the most awaited races on the NASCAR circuit, known for its high-octane energy and spectacular performances. Held at the world-renowned Charlotte Motor Speedway, this race has always been a captivating spectacle for racing enthusiasts.
Ryan Vargas will be one of the many competitors seeking victory, facing off against seasoned professionals and budding talents alike. However, with his proven track record, formidable skillset, and the support of Critical Path Security, we believe Ryan is more than ready for the challenge.
Our Unwavering Support
At Critical Path Security, we're more than just a cybersecurity firm. We are believers in pursuing passion, pushing boundaries, and standing up to challenges - values we see embodied in Ryan Vargas. Our support for him in this endeavor reflects our commitment to these principles.
While we may not be the ones behind the wheel, we believe that our involvement in NASCAR provides a unique platform for our brand to connect with a wider audience, and more importantly, to support a sport that echoes our values of innovation, teamwork, and excellence.
Final Thoughts
As we count down to the North Carolina Education Lottery 200, we want to take this moment to thank everyone for their support. The racing track may be a far cry from the realms of cybersecurity that we usually operate in, but we are thrilled about this journey and the endless possibilities it brings.
The synergy between the fast-paced world of NASCAR and the rapidly evolving landscape of cybersecurity mirrors our commitment to staying ahead and pushing boundaries. We eagerly await the start of the race and are full of anticipation as we cheer on Ryan Vargas, a true embodiment of our brand's spirit.
Stay tuned to our blog and social media channels for updates on the race and Ryan's performance. And most importantly, join us in wishing Ryan Vargas all the best as he puts pedal to metal at the North Carolina Education Lottery 200 NASCAR Race!
Racing forward, always,
The Critical Path Security Team